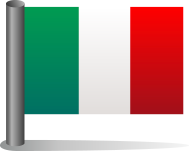 BIRTHPLACE OF OUR CONGREGATION
Italy is the birthplace of the Sisters of Charity of Saint Mary, and several Italian communities receive support from the Congregation. Currently under the leadership of Mother Myriam Sida and her council, the Italian Sisters of Charity continue to provide an excellent education to children in the first house acquired by Mother Marie Clarac on Via Pio V in Turin. They also run a retreat in Dogliani for people of any age looking for a communal experience where they can express their spirituality or simply rest and enjoy this peaceful haven.
Institutions and services
Founding house
Nursery and primary schools
Hospitals
Seniors' residences
Retreats (spiritual retreat and healing – Dogliani)
Residence for elderly sisters
(Villa Maria – Turin)
Tourist home (Rome)
Parish ministry
Afterschool activities
National statistics
Capital:

Rome

GDP per capita ($):

29 600

Population:

61 680 122

Public spending on education (%PIB):

4,7

Density:

204,7

hab./km2
Rate of postsecondary education (%):

49,9

Number of physicians (per 1000 pop.):

4,1

Health expenditure per capita:

3 032
The statistics vary between the years 2010 and 2015. Source: www.statistiques-mondiales.com
Contact information
Sister of Charity
of Saint Mary
Via Curtatone, 17 (10131).
Torino, Italia.
Instituto Buon Consiglio
Tel.: (0039) (011) 6603823